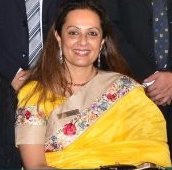 Mrs. Nafisa Kachwalla, the Managing Director of Avance is a talented and accomplished professional in the field of Pharmaceuticals and Healthcare recruitment.
After her graduation in Humanities from the eminent Sophia college in Mumbai, she did her Post Graduation Diploma from National institute of Sales. She then went on to complete her MBA in Human Resource Management from the erstwhile NMIMS, Mumbai.
Right from the beginning of her career, Nafisa showed exceptional leadership qualities and an ability to produce results wherever she was placed. She quickly grew in esteem and rank and added a wealth of experience to her career.
Rising up swiftly within just two years, Nafisa was given the herculean task of starting a Pharmaceutical and Life Sciences SBU in the same firm. Battling stiff competition from well entrenched consultants, Nafisa with sheer hard work and persistence managed to carve a niche for herself in the field. Within a relatively short span of time Nafisa was able to build a loyal clientele in pharma placement with companies like Ranbaxy, Abbott India, Dishman pharma, Alkem pharma, Glaxo, Glenmark, Johnson and Johnson and Famy Care.
In 2006, Nafisa was recruited by a multinational search firm as Vice President, Healthcare. With her own inimitable style Nafisa successfully placed talented professionals in reputed firms like Merck, Lupin, Dr. Schwabe, Granules India, Lambda, Novartis and Teva.
Nafisa began the journey of her lifelong dream and founded Avance on 4th July, 2008.